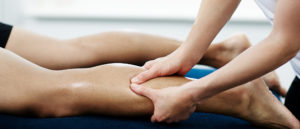 Deep Tissue Massage
is designed to relieve severe tension in the muscle and the connective tissue or fascia.This type of massage focuses on the muscles located below the surface of the top muscles. Deep tissue massage is often recommended for individuals who experience consistent pain, are involved in heavy physical activity (such as athletes), and patients who have sustained physical injury. The term "deep tissue" is often misused to identify a massage that is performed with sustained deep pressure. Deep tissue massage is a separate category of massage therapy, used to treat particular muscular-skeletal disorders and complaints and employs a dedicated set of techniques and strokes to achieve a measure of relief. It should not be confused with "deep pressure" massage, which is one that is performed with sustained strong, occasionally intense pressure throughout an entire full-body session, and that is not performed to address a specific complaint.
Relaxation Massage
is a Swedish style of massage that incorporates and utilizes techniques to reduce stress and tension in specific areas or your entire body.
Sports Massage
A pre-event sports massage is delivered about 30 minutes before a workout or competition. It should be brisk and light and complement a warm-up.
Intra-event sports massage: Many athletes utilize massage during an event to reduce stress on muscles that are reacting from repetitive motions and to keep themselves flexible to prevent injuries.
Post-event sports massage: A post-event massage should be given within an hour after the event to flush the body of lactic acid that built up during the activity and to focus on places where the athlete feels pain and or muscle tension.
Neuromuscular Massage Therapy (NMT)
is a massage modality that focuses on the treatment of trigger points. They are called trigger points because they refer or "Trigger" pain to another part of the body. Trigger points are painful points located within taut bands of muscle and are treated primarily with the application of sustained, usually static pressure. Sometimes this is referred to as ischemic pressure and can vary from very light to heavy depending on the stage of development of the trigger point.
Myofascial Massage Therapy
Myofascial release is stretching of the fascia, the thin tissue that covers all the organs of the body. It is a soft tissue therapy for the treatment of skeletal muscle immobility and pain. The therapy relaxes contracted muscles, improves blood and lymphatic circulation, and stimulates the stretch reflex in muscles. Fascia is the soft tissue component of the connective tissue that provides support and protection for most structures within the human body, including muscle, bone and organs. Soft tissue can become restricted due to overuse, trauma, infectious agents, or inactivity, often resulting in pain, muscle tension, and corresponding diminished blood flow.
Hot Stone Massage (Hot Rocks Massage)
is a deeply relaxing form of massage that incorporates Basalt Stones (Iron rich stones that hold heat well). The stones are placed in hot water until they reach a safe temperature, then used to warm soft tissue during a massage. Hot Stone Massage can be used for Deep Tissue and Neuromuscular Therapy as well. The MOST soothing experience and a must try!!!
Aromatherapy
Aromatherapy massage incorporates the use of essential oils within the treatment to enhance a specific effect. Essential oils are highly concentrated plant extracts, derived from leaves, bark, roots, seeds and flowers. In aromatherapy massage, essential oils are mixed with a lotion or oil. The therapist chooses an essential oil mixture based on what you need. A relaxing aromatherapy massage, for instance, might have lavender or bergamot, while a massage for sore muscles might include peppermint and eucalyptus.
Deep Muscle Therapy
is a treatment in which two topical analgesics are applied to heat the soft tissue and relieve pain with the effects of cryotherapy (cold or ice). Prossage® is a 100% natural (Safflower Seed oil, Menthol, Lanolin, Lavender oil), therapeutic, warming ointment for Myofascial Release, Deep Tissue Work, Sports Massage and Trigger Point Therapy. Biofreeze® Pain Reliever is 100% paraben-free and delivers targeted pain relief with the benefits of cryotherapy to treat athletic and muscle related injuries, sore or strained muscles, shoulder and arm discomfort, neck, hip and leg pain, back pain, painful joints, sports injury pain, ankle or foot pain, and pain associated with bruising, arthritis and tendonitis.
Lymphatic Massage
"Lymphatic Massage"  is a gentle pressure technique used to move the waste fluids from the damaged area after surgery. Usually movements of smooth muscle tissue does this. Damage to tissue or surgery can cause fluid buildup in your lymph system and your lymph nodes, a condition known as lyphedema, a condition that can cause a slower healing process, fatigue and even depression. The compromised quality of the air, water, food, etc. causes significant accumulations of metabolic waste products in our body, some of which are toxic; thereby making Lymphatic Massage a good treatment for detoxification.
Download the kneadzwork app to the right to book your session